Silicon Carbide nozzles in Power Plant
Product Detail
ZPC - silicon carbide ceramic manufacturer
Product Tags
Silicon Carbide FGD Nozzles
Reaction bonded silicon carbide (SiSiC): Moh's hardness is 9.2, with excellent resistance to erosion and corrosion, excellent abrasion-resistance and anti-oxidation. It is 4 to 5 times stronger than nitride bonded silicon carbide. The service life is 7 to 10 times longer than alumina material. The MOR of RBSiC is 5 to 7 times that of SNBSC, it can be used for more complex shapes Silicon carbide ceramic factory,
 ZPC are the biggest Silicon carbide(RBSiC) Desulfurization nozzle manufacturer in China.
120° FGD spary nozzle,

Flue gas desulfurization nozzle,

LIME LIMESTONE SLURRY FGD nozzles,

silicon carbide Spray nozzle,
WET FLUE GAS DESULFURIZATION WITH LIME/LIMESTONE SLURRY 
Our products have a long service life, which is the same as the famous international brands: SPRAY, BETE, LECHLER.
Features
Desulphurisation efficiency above 99% can be achieved
Availability of over 98% can be achieved
Engineering not dependent on any specific location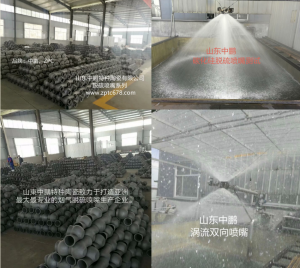 Advantages of ZPC nozzle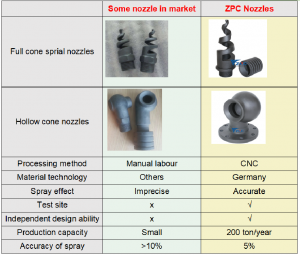 ZPC specializes in the procurement of materials from top suppliers, never using recycled materials. So ZPC nozzles have long service life, best on-site performance, lower maintenance costs and higher work efficiency. ZPC's products are tailored and fine-tuned to the individual requirements of the customer. When it comes to the real performance of our product quality, compromise is not a choice.
Non-branded conventional nozzles:In order to appeal to market demands and lower production costs, no-brand regular market nozzles attempt to imitate large manufacturers' nozzles' external appearance, but do not strive to achieve their remarkably better onsite performance and lifespan. No-brand regular market nozzles are developed with an aim of low production-costs and low product price in mind, thus mostly relying on low cost materials. While their external form appears to be glossy and sleek with an undulated, wavy shape, their tolerance for pressure however is, after examination, turned out to be about a half of ZPC's nozzles. Their lifespan is short, onsite performance lacking, they frequently require repairs and maintenance, and often cause many a headache for onsite personnel.
Purification of flue gas by lime suspension
For the wet desulphurisation of flue gas, it is passed through an absorber (scrubber). The lime suspension offered in the absorber (limestone or lime milk) reacts with the sulphur dioxide from the flue gas. The better the mass transfer, the more effective the desulphurisation is.
Simultaneously with the absorption, the flue gas is saturated with water vapour. The so-called "clean gas" is usually discharged via a wet chimney or cooling tower. The water thus lost for the process must be replaced. The lime slurry pumped in circulation is kept chemically active by repeatedly draining a saturated partial flow and replacing it with new reactive suspension. The drained part flow contains gypsum, which – simplified – is a reaction product of lime and sulphur and can be marketed after dewatering (e.g. for gypsum walls in the construction industry).
Special ceramic nozzles are used to inject the lime suspension into the absorber. These nozzles form many small droplets from the pumped suspension and thus a correspondingly large reaction surface for good mass transfer. The ceramic material permits long service life despite the fact that lime suspension with gypsum content has abrasive properties. In the design we attach great importance to free cross-sections, so that smaller impurities in the suspension cannot set the nozzles. For economical operation, these nozzles can be adapted to the highest efficiency range of the pump. A nozzle can be specified for (almost) every process engineering challenge. In addition to full-cone and hollow-cone nozzles in various spray angles and flow rates, the ZPC nozzle with patented twist compensation is also available.
The absorption zone consists of several levels of nozzles and a horizontally installed droplet separator system, in order to return the fine droplets carried along in the gas stream to the process. With our high performance droplet separators you can increase the efficiency of your plant.
The solids in the suspension can lead to deposits, e.g. in the droplet separator, in the inlet duct or on pipes, which can lead to problems in operation. Since water is always withdrawn from the circuit through evaporation, water must be fed into the absorber, which can and should be used for cleaning. ZPC tongue nozzles have proven themselves for cleaning the flue gas inlet. ZPC full cone nozzles are usually used for cleaning the droplet separators.
Plastics (e.g. for pipelines) and rubber (e.g. gaskets, rubber linings, etc.) are often used in an absorber whose temperature resistance is lower than the temperature of the uncooled flue gas. Normally, the suspension pumped in a circuit cools the flue gas sufficiently, but if, for example, the feed pump is suspended, the plastics and rubbers could be destroyed. Small special-alloy metal nozzles have proven their worth here, which take over cooling during this time and thus protect the investment of the flue gas desulphurisation plant.
---
Previous:
Power Plant Silicon Carbide nozzles
---
Shandong Zhongpeng Special Ceramics Co., Ltd is one of the largest silicon carbide ceramic new material solutions in China.  SiC technical ceramic: Moh's hardness is 9 (New Moh's hardness is 13), with excellent resistance to erosion and corrosion, excellent abrasion – resistance and anti-oxidation. SiC product's service life is 4 to 5 times longer than 92% alumina material. The MOR of RBSiC is 5 to 7 times that of SNBSC, it can be used for more complex shapes. The quotation process is quick, the delivery is as promised and the quality is second to none. We always persist in challenging our goals and give our hearts back to society.