RBSC Full Cone Sprial nozzle
Product Detail
Product Tags
Working principle of silicon carbide spiral nozzle
When a liquid with a certain pressure and speed flows from the top down to the RBSC/SiSiC spiral nozzle, the liquid in the outer part hits the helicoid with a certain angle on the nozzle. This can change the spray direction away from the nozzle. The included angle (helix angle) between the streamline of the surface of the cone of the different layers and the center of the nozzle is gradually reduced. It is conductive to increase the covering area of the ejected liquid effectively.
The RBSC/SiSiC spiral nozzle is a commonly used to desulphurization and dedust. It can produce hollow cone and solid cone spray shape with the spiral angle from 60 to 170 degrees. By cutting and colliding with the continuously smaller spiral body, the liquid will turn into the small liquid into the cavity of the nozzle. The design of the passage from the import to the exit is not obstructed by any blade and guide. In the case of the same flow, the maximum unblocked diameter of the spiral nozzle is more than 2 times that of the conventional nozzle. This can reduce the occurrence of hindrance to the greatest extent.
Silicon Carbide is a light, extremely hard, and corrosion resistant material which makes it a strong candidate for wear applications in the harshest environments. Silicon Carbide also offers other desirable properties such as excellent thermal conductivity and high young modulus.
Applications

Semiconductor process equipment Parts

General industrial machinery parts

Abrasion resistance part
The vacuum reaction sintered silicon carbide desulphurization nozzle is the key part of the complete set of desulphurization and dust removal equipment for thermal power plant, large boiler. The product has excellent properties such as high strength, high hardness, strong corrosion resistance, severe wear and high temperature resistance. The reaction sintered silicon carbide desulfurization atomizer produced by our company has uniform distribution of spray droplets, unobstructed flow channels, and completely replaced imported products, filling the domestic blank. At present, there are three series of vortices, spirals and liquid columns, which have been applied in desulphurization and dust removal devices of many thermal power plants and large boilers, and are in good working condition.
Spray effect of solid cone spiral nozzles

Full Cone Flow Rates and Dimensions
Full Cone, 60° (NN), 90° (FCN or FFCN), 120° (FC or FFC), 150° , and 170° Spray Angles, 1/8″ to 4″ Pipe Sizes
Spray Angles: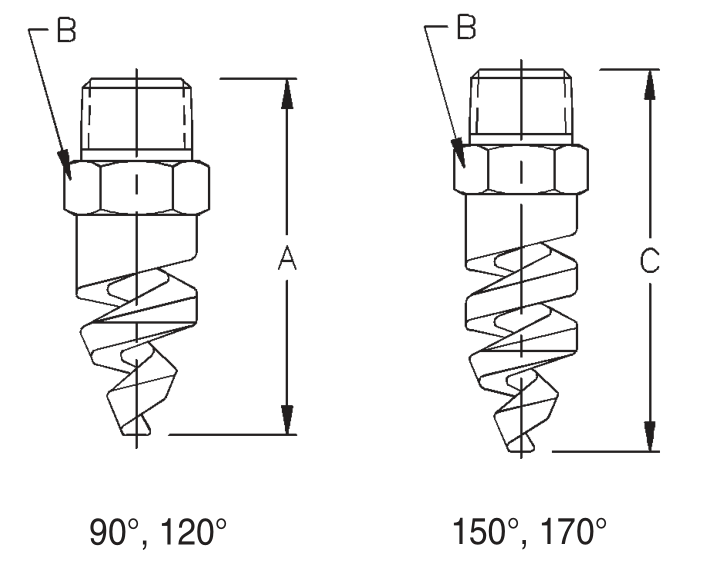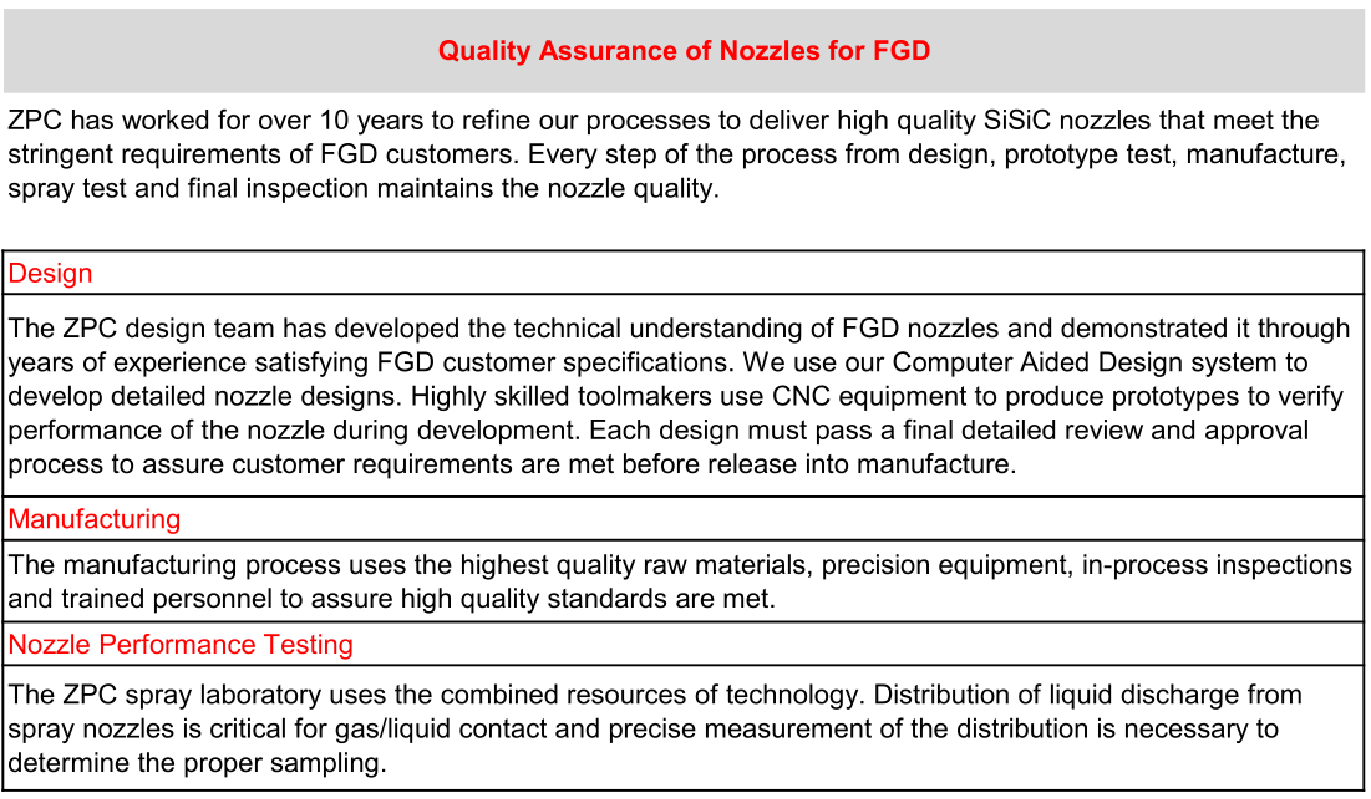 ---
---