Special SiC ceramic parts
Product Detail
ZPC - silicon carbide ceramic manufacturer
Product Tags
Silicon Carbide for Irregular Wear Parts and Thrust Bearings
The Silicon Carbide Ceramic tolerates a wide range of acids and alkalis. And with excellent performance of high strength, high hardness, high wear resistance, high temperature resistance, corrosion resistance. The different kinds of shapes of special parts are suitable for mining, petrochemical, metallurgical manufacturing, aerospace and nuclear industries, such as a specific environment. We can make any sizes provided according to the customer request.
Wear resistance, high temperature strength and corrosion resistance make Reaction Bonded SiC an ideal material for wear components, such as screws, plates and impellers.  It can also be used in thrust bearings that can carry extremely high loads in heavily contaminated liquids.
Silicon Carbide SiC (SiSiC/RBSiC) Features:
Abrasion / Corrosion resistance

Excellent thermal shock characteristics

Excellent oxidation resistance

Good dimensional control of complex shapes

High thermal conductivity

Improved performance

Longer life between replacement / rebuilds

Resistance to corrosion

Superior Resistance to wear

Strength at high temperature up to 1380°C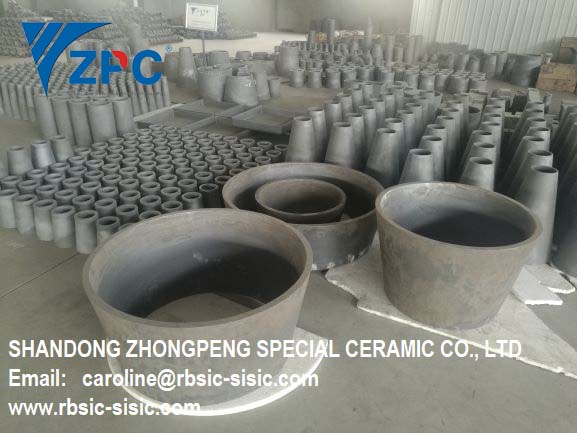 ---
Next:
Spray gun bushing
---
Shandong Zhongpeng Special Ceramics Co., Ltd is one of the largest silicon carbide ceramic new material solutions in China.  SiC technical ceramic: Moh's hardness is 9 (New Moh's hardness is 13), with excellent resistance to erosion and corrosion, excellent abrasion – resistance and anti-oxidation. SiC product's service life is 4 to 5 times longer than 92% alumina material. The MOR of RBSiC is 5 to 7 times that of SNBSC, it can be used for more complex shapes. The quotation process is quick, the delivery is as promised and the quality is second to none. We always persist in challenging our goals and give our hearts back to society.