Manufacturer (factory) of Silicon Cabide bricks, plates, tiles
Product Detail
Product Tags
The Silicon Carbide tolerates a wide range of acids and alkalis. And with excellent performance of high strength, high hardness, high wear resistance, high temperature resistance, corrosion resistance. The different kinds of shapes of special parts are suitable for mining, petrochemical, metallurgical manufacturing, aerospace and nuclear industries, such as a specific environment. We can make any sizes provided according to the customer request.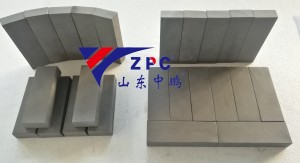 Wear resistance, high temperature strength and corrosion resistance make Reaction Bonded SiC an ideal material for wear components, such as pipe liners, bricks, tiles, blocks, etc.

Physical characters

Unit

Properties

SIC content

%

95-88

Free Si

%

5~12

Bulk density

g/cm3

>3.02

Porosity

%

<0.1

Hardness

Kg/mm2

2400

Coefficient of bending strength at 20 degrees Celsius

Mpa

260

Coefficient of bending strength at 1200 degrees Celsius

Mpa

280

Modulus of elasticity at 20 Degrees Celsius

Gpa

330

Fracture toughness

Mpa*m1/2

3.3

Coefficient of thermal conductivity at 1200 degrees Celsius

 




W/m.k

 




45

Coefficient of thermal expansion at 1200 degrees Celsius

 




10-6mm/mmK

 




4.5

Coefficient of heat radiation

 

<0.9

Max. Working temperature

ºC

<1380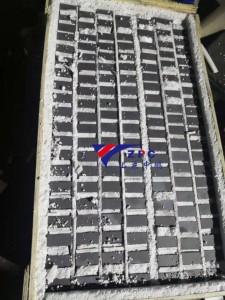 Silicon Carbide SiC (SiSiC/RBSiC) Features:
Abrasion / Corrosion resistance
Excellent thermal shock characteristics
Excellent oxidation resistance
Good dimensional control of complex shapes
High thermal conductivity
Improved performance
Longer life between replacement / rebuilds
Resistance to corrosion
Superior Resistance to wear
Strength at high temperature up to 1380°C
Silicon carbide plates applications:
SiC silicon carbide plate and tiles is a type of special ceramic plate are widely used in many industrial productions:
Mining Industry, Machine Industry, Chemical Industry, Crystallite Glass Industry, Magnetic Materials Industry, Metallurgy, Metallurgy Industry, Paper Industry, Petroleum Industry, kiln,etc.
Customized silicon carbide products, shape available:  plates, bricks, tiles, radian plate, screw, plain plate, straight pipe, tee pipes, ring, elbow, cone cyclone and so on.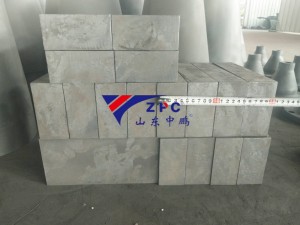 ---
---