Silicon carbide radiant tube
Product Detail
Product Tags
Shandong Zhongpeng Special Ceramics Co. Ltd is the manufacture of RBSiC (SiSiC) burner nozzles. We are the stable supplier of high temperature nozzles for similar enterprises in over 20 provinces and regions of China. For example, Guangdong Ceramic Base and Jiangsu Ceramic Base are the major regions of our customers. We are able to provide the professional and stable supply of high temperature nozzles. 
SiC  are the most suitable kiln furniture of burner nozzles, tunnel kilns, shuttle kilns, roller of hearth kilns as the flame tubes. With high temperature thermal conductivity, good, quick cooling in heat resistance, resistance to oxidation, thermal shock resistance of good, long life.
Our company is highly appraised for offering fine quality Silicon Carbide Burner Nozzles to our client's.These product are widely used in various industries such as shuttle kiln, roller hearth kiln and tunnel kiln. These are also used in several industrial kilns, which are fuel oil and fuel gas. These are fabricated with the help of the advance machinery & equipment. We offer these product at a very competitive market prices. Customer can get these product as per their own need. 
The use of silicon carbide tubes for industrial burners is now well proven technology within the ceramics industry offering improved temperature uniformity and increased control.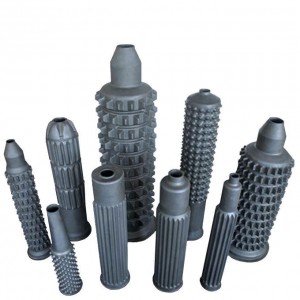 In any industrial heating process perhaps the most critical aim is to provide a carefully controlled temperature profile within the kiln or furnace. Whether the fuel is natural gas, LPG or oil, the location of the burners is a potential hot-spot within the kiln. Burner flames can be long enough to make contact with the product or kiln furniture causing very severe over-heating which is damaging to both. Even when the exposed flame is kept at a safe distance, direct radiant heating can cause localised over-heating of product and subsequent quality problems.
SiC radiation pipes
SiC radiation pipes have superior characteristic such as corrosion resistance, high temperature tolerance, oxidation resistance, superior thermal conductivity, bending strength, long time service life, etc. They are also very efficient, energy-saving, enviromental protection in the field of industrial production.
The series of radiation pipes are widely used in the annealing production lines for industries of steels and metallurgies. They are also used for heat conduction system and radiant system under the conditions of high temperature, high corrosion and high wear resistance. SiC is recommended for most kilns and furnaces working below 1350℃.
Silicon Carbide Burner Nozzles
The tube forms a chamber within which most of the combustion takes place. Only a minimal amount of flame is directly exposed to the kiln load, almost eliminating radiant hot-spots.
The tube exit is normally tapered to increase exhaust velocities. Greater velocities improve mixing within the kiln, improving temperature uniformity.
Greater exhaust velocities also increase the entrainment of kiln atmosphere from around the burner, diluting the hot exhaust stream and ensuring rapid energy transfer.
ZPC Ceramics can now offer most sizes of silicon carbide tube to match your existing kiln burners.  
• High quality material giving a long service life
• Low thermal expansion and high conductivity gives exceptional resistance to thermal shock cracking
• Dimensionally stable with no significant deformation and creep
• Resistant to oxidation and corrosion
• No burner quarl is required.
• Suitable for both brick or fibre linings
• Used in most kilns types – tunnel, roller and shuttle
SiC is recommended for most kilns and furnaces working below 1350℃.
---
Previous:
Ceramic lined pipe
---