Wear resistant, corrosion resistant burner competent-Burner system wear parts – burner nozzles for power plants
Product Detail
Product Tags
Burner system wear parts-burner nozzles for power plants
The main material of the burner nozzle:
High temperature resistant stainless steel, short life and high price. The high temperature resistant ceramic composite material has a wear resistance of about 40 times that of high temperature resistant stainless steel, and the actual service life can reach more than 10 years. There is almost no pulverized coal scouring and abrasion during the use in excess of 1000 ° C without the impact of external impact.
Challenges for burners:
1. Thermal damage: deformation and distortion. The combustion temperature is often around 1000 ° C, and a material with a small thermal expansion coefficient is required.
2. Pulverized coal wear
3. High temperature resistant steel products have a short service life, are easy to wear through, and affect the combustion efficiency.
4. Some white wear-resistant ceramic products abroad have an increased wear life but are expensive. The composite ceramic material developed by Shandong Zhongpeng greatly reduces the product cost, but the service life is more than 10 times that of foreign products.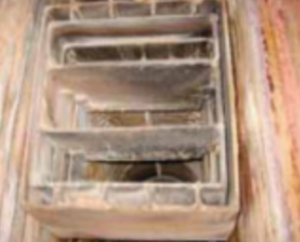 Part of the use environment and reference parameters:
1. Operating conditions: pulverized coal and low-pressure air are mixed, with frequent quenching and heating and thermal shock,
2. Operating temperature: primary air environment to 120QC; secondary air-preheating to 380QC; hot air vortex temperature at the front of the nozzle can reach 1200 ℃
3. Airflow speed: The air surface speed can reach 30-50m / s; airflow speed is about 10m-20m / s.
4. Nozzle temperature: front temperature 550QC-950QC; rear temperature 250QC-500QC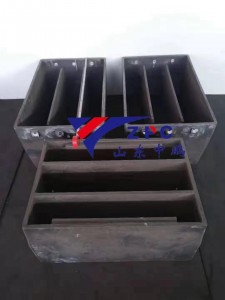 ZPC-F series special ceramic burner nozzles in power plant:
The hardness of composite industrial ceramics developed and produced by ZPC is second only to that of diamond. Its long service life and perfect extreme environment adaptability: high temperature resistance, wear resistance and corrosion resistance. It can perfectly replace steel parts in the burner high temperature wear environment. And the shape and size of the burner nozzle can be customized according to the needs of different burners. Such as round burner protective sleeve, burner nozzle, burner coal distributor and so on. This non-metal industrial ceramic can also be used to produce a variety of wear-resistant parts for burner systems.
1. It has extremely strong thermal shock resistance and thermal wear resistance, and is the most wear-resistant industrial ceramic composite material at temperatures above 1000 ° C;
2. Product hardness is second only to diamond, and there is almost no wear under the impact of powder;
3. The highest operating temperature is up to 1400 ° C, with a very small thermal expansion coefficient.
4. Can be produced in various shapes and sizes. The maximum size can reach 1000mm.
5. The product is not deformed throughout the life cycle, the combustion efficiency is stable and efficient, and the emission of harmful gases such as NOx is reduced
6. Light weight, easy to maintain and design
7. Integral molding to fill gaps in domestic and foreign markets.
The current product line is divided into:
1. Tangential burner burner nozzle product line
The fuel nozzle and the air nozzle form a rotatable flame at the four corners of the boiler, which evenly dissipates heat around the boiler. The fuel nozzle and air nozzle assembly can be controlled to move up and down by tilting.
2. Custom Combustion Boiler Burner Nozzle Product Line
The combustion nozzle and air nozzle on the boiler wall form a large fireball in the center of the boiler and burn directly on the nozzle surface.
The coal distributor, located in front of the nozzle face, generates additional turbulence before combustion.
Protective sleeve-surround the inner tube and outer mold of other key parts containing the nozzle
Wear parts-prevent high temperature wear on other pipe parts
---
Previous:
Silicon Carbide burner parts
---