SiC bushing, plates, liners and rings
Product Detail
Product Tags
Please see the product video on the website:
Wear resistant ceramic linings provide excellent impact and abrasion resistant protection. Specifically constructed for use wherever wear and abrasion are a problem, ZPC® linings reduce downtime and maintenance. The SiC ceramic linings are highly resistant to the abrasive effects of bulk materials such as silica, ore, glass, slag, fly ash, limestone, coal, coke, feed, grain, fertilizer, salt and other highly abrasive materials.
Abrasion resistant and wear resistant linings from Zhongpeng suit many industries. Customers range from the powder industry to the coal, power, mine and food industries where FGD nozzles are approved for use in China Electric Power Group. ZPC wear resistance linings are marketed throughout the United States, Canada, Austrilia, Mexico, South Africa, etc. They are ideal for lining components susceptible to severe abrasion in plant material handling and processing operations. The SiC linings, plates and blocks are effective in applications such as pipes, tees, elbows, separators, cyclones, silos, bunkers, concrete and steel troughs, chutes, impellers and agitators, fan blades and fan casings, conveyor screws, chain conveyors, mixers, pulpers; wherever friction-induced abrasion is a problem.
Abrasion resistant tiles for wear protection, to meet the customer's specific abrasion, impact and corrosion problems. The use of ZPC SiC wear resistant linings on problematic components adds up to significant savings because of their longer service life. The cost of replacement parts, the downtime of operations, plant clean-up and the cost of maintenance work are all dramatically reduced. The savings incurred will pay for the linings and installation in a short time.
Silicon carbide sic bushing is a new type of high-tech and wear-resistant material in the world. It was made of high-purity silicon carbide powder, high-purity high-temperature carbon black and binders,by pouring, blanking, sintering, and sand-removing processes,made of a composite high wear product.
It is currently used as a bushing in mining equipment,such as copper, gold, iron ore,nickel ore and other in non-ferrous metals.It plays a role of high wear resistance,the wear life is more than 10 times that of conventional steel bushings and alumina bushing.
1.Application of sic bushing in the mining industry
For mine filling, the concentrate powder and tailings transportation has serious wear on the pipeline.The service life of the ore powder conveying pipeline used in the past is less than one year, and now choose silicon carbide bushings can increase the service life by more than 10 times.
2.Why silicon carbide linings are widely used in the mining industry?
Due to the wear resistance of ceramic tubes, following is a comparison of wear resistance of ceramic tubes and other materials.
Comparison of wear resistance of silicon carbide bushings
Sandblasting contrast test(SiC sand)

30%SiO2 mud slurry contrast test

Material

Reduced volume

Material

Reduced volume

97% alumina tube

0.0025

45steel

25

Silicon carbide bushing

0.0022

Silicon carbide bushing

3
3.Other physical and mechanical properties of ceramic wear resistant pipes in the mining industry
Item data




material

Strength 




HV




kg/mrn2

Bending strength




MPa

Surface material

Ceramic layer density




g/cm3

Compressive shear strength MP

Resistance to mechanical shock

Thermal shock resistance

Steel tube

149

411

 

 

 

 

 

SiC bushing

1100-1400

300-350

smooth

3.85-3.9

15-20

15

900
4.Another feature of silicon carbide bushings used in mines – small loss of running resistance
Test on resistance characteristics of powder, slag and ash transportation,the results are as follows:
Material

Absolute roughness (△)

Absolute roughness(△/D)

Water resistance coefficient

Hydraulic transmission

Pneumatic conveying

Hydraulic transmission

Pneumatic conveying

Ordinary steel tube

0.119

0.20

7.935×104

1.343×103

0.195

Ceramic composite pipe

0.117

0.195

7.935×104

1.343×103

0.0193
5.Silicon carbide bushing connection
(1)When flexible pipes are used to connect the installation pipes, the insertion lengths of the two ends of the flexible pipe sleeve must be adjusted symmetrically. Expansion gap should be based on local conditions or design department requirements.
(2)When When using flange connection, the flange face must be flush with the end face of the composite pipe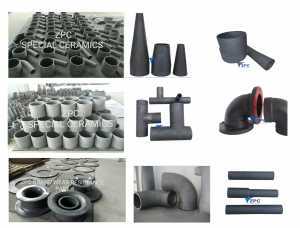 ---
Previous:
Bruciatore per carburo di silicio
---